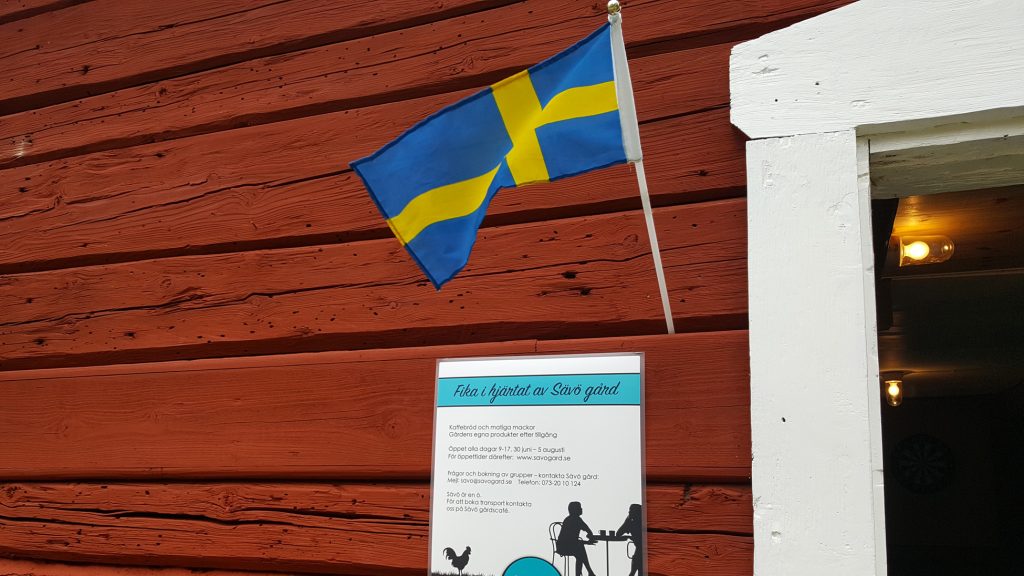 Open again summer 2024
Enjoy our café in the beautiful garden of Sävö farm. The garden is sheltered from strong winds and we have tables in the sun as well as in the shade. On a rainy day, the old building is a perfect spot to enjoy traditional Swedish fika. Or maybe you prefer seeking shelter under the impressive walnut tree.
All bread, cookies and patries are home baked. Feel free to borrow a book from our book shelf to help you relax. We also have children's books in English, French, Swahili, and of course in Swedish. If you are in the mood for it, challenge your friends in a game of darts.

We serve
Breakfast
Yogurt, egg, ham and cheese sandwich; coffee/tea/milk – SEK 80
Beverages
Coffee – SEK 30
Tea – SEK 30
Ice coffee – SEK 30
Lemonade elderberry – SEK 20
Mineral water – SEK 20
Beer, alcohol free – SEK 35
Lunch/sandwiches
All of them with a chioce of either dark Danish rye bread or wheat bread roll:
Sävö special – smoked meat from the farm – SEK 70
Egg and anchovy – SEK 60
Beat root hummus – SEK 55
Bean spread with sundried tomatoes – SEK 55
Ham and cheese sandwich – SEK 35
Cookies and cinnamon rolls of different types
Cookies and pastries, different types and sizes – SEK 25 – 45
Cinnamon rolls – SEK 28
Contact us
Phone: 073-2010124
savo@savogard.se
Sävö is an island. Get in touch with us if you need transport
Boat fee: adults SEK 100 round trip, no boat fee for children under 13.
Moor your boat
You can moor your boat in Boholmsviken on the east side of Sävö – facing Källvik. There is a sign "Boholmsviken" showing where to get in to the jetty. If there is a flatboat by the jetty at the moment feel free to moor beside it. Boholmsviken is marked on the map of Sävö:
The Sävö map
In the southeastern part of Svartviken, the small bay just to the north of Boholmsviken, there are steel rings in the rock where you can moor the boat and stay overnight.
You can also use the visitor jetty in Djupviken – on the northern part of the island. The jetty is marked on the map but without name. It is the only jetty on the northern part of the island though. If it is not too crowded you can stay overnight.
On the island you can also moor the boat at the guestpier by the hostel to the south of the island. Note that the wooden deck is only allowed for the hostel.
See you at Sävö farm café!
Karin och Janne