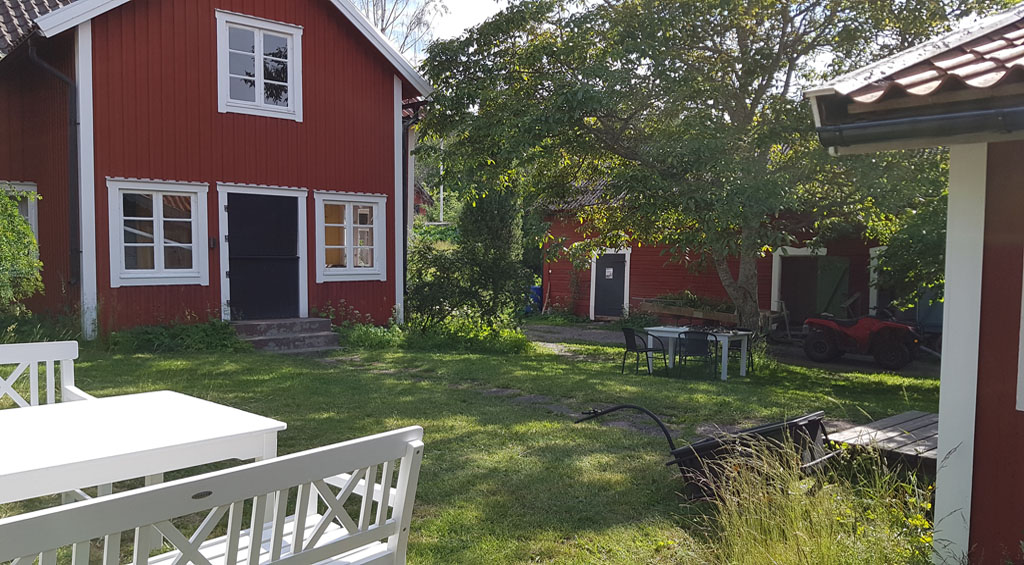 Staying here in the guesthouse you are right at the heart of Sävö gård (the farm).
There are three rooms for rent. You all share the kitchen, the "living room" and the bathroom including shower (Note – rules due to the corona pandemic, read below). Bring your own sheets – there are mattresses, blankets and pillows. Sleeping bags are not allowed.

Corona pandemic 2022
When renting you will have the whole guesthouse for just your company. You then have access to the room (or the rooms) you have rented and the bathroom, kitchen and the dininghall.
If you only rent room 3, it costs SEK 700 per night 2022. But if you rent room 3 + one of the other rooms, the cost will be SEK 500.
Right next to the guesthouse there is a farm café open six weeks summertime.
Farm café


Room 1: There are two beds, 140 cm and 120 cm
700 SEK/night
Room 2: There are three beds, 180 cm, 100 cm and 90 cm
700 SEK/night
Room 3: Two beds, 90 cm each
500 SEK/night (Season 2022 – 700 SEK/night if you only rent this room)
It is possible to add an extra matress in all three rooms

Cleaning is included in the price.

Booking
You are welcome to make your booking though airbnb.com:
Guesthouse room 1
Guesthouse room 2
Guesthouse room 3
Get in touch with us directly:
Contact

Photos